Ida B. Wells
1862 – 1931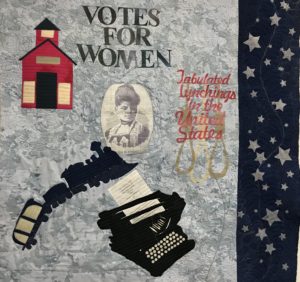 Ida B. Wells Suffragette
Maxine Thomas
Size: 43" h x 43" d
Construction: Hand and machine appliqued. Machine quilted
Material: Cotton
Contact: Msthomas1@aol.com                                                              Price: $250
Artist Notes:I was first introduced to the life of Ida B. Wells in a children's book my granddaughter was reading. Ida was African-American and my granddaughter was trying to understand why this lady was important. We read the story together.
I began to imagine what a quilt on Ida would look like. That is the way I always begin my creative journey. I think through symbols, colors and paint with fabric. This piece was more difficult than many I have made because it needed to have a noose. Ida fought against lynching and I wanted to share that without dominating a quilt about a life that was about so much more. In the end, the nooses are there but, in the background.
Her primary work was as a journalist. The typewriter speaks to that and the Red Record is where she tabulated the atrocities. She was a teacher, an activist, a suffragette and a pioneer chronicling America's dark side.
Biography: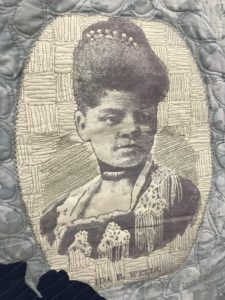 Born in 1862 in Holly Springs, Mississippi, Ida Wells was destined not only to suffer from the vestiges of slavery the deep south coped with but what the newly emancipated Negro's place should be. Racial prejudice did not die with the Emancipation Proclamation and discriminatory rules and practices hung on.
At the age of 16, Wells found herself as the sole provider for her siblings after the tragic death of both of her parents from yellow fever. She landed a job as a teacher and was able to keep food on the table.
By 1882 she and her siblings moved to Memphis, Tennessee to live with an aunt where she was able to continue her education. Well before Rosa Parks, Ida Wells too refused to give up her seat to sit in the area for African Americans. She sued the Ohio Railroad when she was forcibly removed from the train because she refused to move. Her $500 settlement was later overturned but it planted in her a concern about injustice.
The injustices that caught her attention were the degrading conditions of black only schools, murders of blacks by lynching, and women's right to vote. Her protest weapon of choice was the written word using local black newspapers, and eventually her own newspaper pages to chronicle the injustice she saw. She was run out of the south by an angry mob that could not tolerate her documentation of the mob murders. Fleeing to the north she continued to run in-depth reports on lynching.
Early in the movement she helped to establish the NAACP but later broke with them complaining that the group wasn't action based.
Women's right to vote was also part of her work as she fought against injustice anywhere she saw it.