Hark! Hark!
Hark! Hark!
The dogs do bark!
Suffragettes on parade
Some in rags
And some in tags,
But all are welcome made!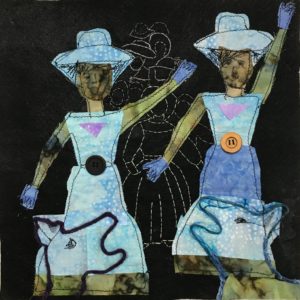 Construction Methods:  Applique, Misty Fuse, machine quilting, hand quilting
Materials:  Cotton fabric, fabric crayons, quilting threads, fibers
Artist:  Janet Lasley                                                         Price: $30
Original Mother Goose
Hark! Hark!
Hark! Hark! the dogs do bark!
Beggars are coming to town:
Some in jags, and some in rags,|
And some in velvet gown.