One, Two
One, two,
A vote will do;
Three, four,
I'll do some more;
Five, six,
The laws I'll fix;
Seven, eight,
Make politics straight;
Nine, ten,
Equal with men.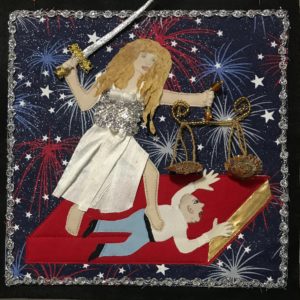 Construction Method: Hand painted faces, fabric doll and clothing cutouts,
handmade sword using recyclables and metallic trims, handmade scales of Justice using beads, copper wire and metallic fabric. Hand appliqued, machine stitching
Materials: Cotton fabric, silk, wool felt, metallic fabric, hand dyed fabrics, beads, cotton and metallic threads, recyclable materials, ribbons, trims, wire, polyester fabrics, Pellon fusible stabilizer, watercolor pencils, fabric pin, metallic paint and sewing notions.
Artist: Jennifer Greenup                                      Price: NFS
Artist's Notes: It takes steps, stages to change the minds of Man and the Law that result from them.  People are not easily persuaded to relinquish their privilege and power.
Original Mother Goose
One, Two, Buckle My Shoe
One, two, buckle my shoe;
Three, four, shut the door;
Five, six, pick up sticks;
Seven, eight, lay them straight;
Nine, ten, big fat hen.